Our Mission:
WeForest is an international organization aiming to plant over 1 trillion trees in the years ahead!
Help WeForest achieve this goal by contributing now! For every dollar you contribute to this campaign, one tree will be planted in Madagascar to help reforest that country and our planet!

Learn more about WeForest at www.WeForest.org
'YES, we can!"
To use a famous quote from a notorious leader, we believe that 'YES, we can!' plant enough trees to halt Global Warming.
How many trees are needed for that? 1 trillion trees – planted, alive, nurtured, and growing. Another trillion would grow as offspring from these trees – bonus! As you know, Nature does these things…
Corporations should take care of 80% of the needed trees, and WeForest is working with many corporations to do just that. But we need the global citizens of this planet to contribute to this work as well. For each dollar you contribute to this campaign, another tree will be planted in Madagascar, moving us one more tree closer to our goal!
Project Snap-shot: Madagascar
Our planting project in the Ampohibe district of Madagascar gives a regular job to the planters and teaches young students how to take good care of young trees, their environment and their future.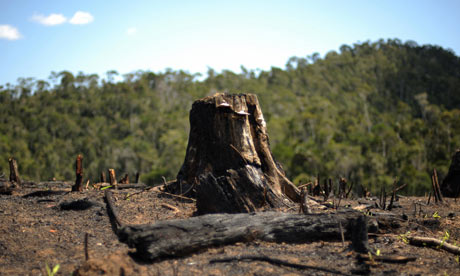 This kind of intervention in Madagascar is so necessary: 90% of its eastern rainforests have already been cut down, and remaining forests are under threat. The natural water cycle has been affected and the country is suffering. Less rainforest means less rain. Landscapes are dry and rice production is reduced, natural habitat and biodiversity are lost or at risk, and the ability of the land to support human activity and life is under threat. Reforestation and education are both needed; supporting local people in protecting and preserving the remaining forest and in planting "useful" trees such as cacao, cinnamon, ravinstsara, fruit trees, thus reversing many of the effects and threats caused by deforestation in the first place.
Learn more about our Madagascar Project, click here.
Thank you so much for your contributions!